Mazda Furai



Cost:

Class:

★

Performance:

961

XP gain:

21,500

Body kit:

No

Colors choice:

No

Manufacture restrictions:

Yes. Only performance upgrades are avaivable

Collections:

Level unlock:

No

Resell value:

225,000
The Mazda Furai (マツダふうらい Mazda Furai?) is a concept car revealed on 27 December 2007 and manufactured by Mazda. A teaser image of the vehicle was released on 11 December 2007. The Furai officially debuted at the 2008 North American International Auto Show in Detroit.
The Furai (風籟 Fūrai), meaning "sound of the wind", is the fifth and last of the Mazda Nagare line of concept cars that have been made by Mazda since 2006. The chassis is based on the Courage Compétition C65 Le Mans Prototype that Mazda last used to compete in the American Le Mans Series, two seasons previously and is designed to use E100 ethanol fuel, it is powered by a new generation 20B 3-rotor wankel engine that puts out 450 brake horsepower (340 kW). The engine is developed and built by renowned rotary tuner, Racing Beat, who also built the car's rotary-shaped muffler canister.
The car bears the #55 number that of its 1991 24 Hours of Le Mans winning ancestor, the 787B. Unlike many concept cars, the Furai is fully functional and is currently being tested at various tracks. It has run at Laguna Seca and Buttonwillow.
Mazda Furai Car&Driver edition
Edit
Each month, Car&Driver launch a themed contest. These contests could be a spcified theme car wrap, a themed garage
Mazda Golden Furai  
Edit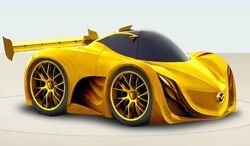 This car is a CIE reward for VIP players the 1/19th. based from some moods, these VIP players are big BC spendres.
Mazda Black Edition Furai
Edit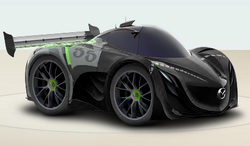 Mazda Furai White Edition
Edit
Ad blocker interference detected!
Wikia is a free-to-use site that makes money from advertising. We have a modified experience for viewers using ad blockers

Wikia is not accessible if you've made further modifications. Remove the custom ad blocker rule(s) and the page will load as expected.